Halberg Chiropractic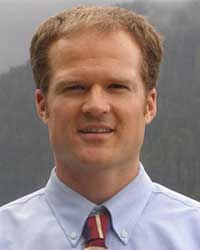 Halberg Chiropractic Clinic is made up of a team of professionals dedicated to providing the best quality healthcare in a responsive and caring environment. Our chiropractors are all Board certified with years of experience in the profession. They work in concert with office staff who try to understand your health issues quickly and apply the right treatment to get you back to your optimal health.
James G. Halberg, DC
Welcome to Halberg Chiropractic Clinic! Thank you for looking at our website. If you choose me to provide you with chiropractic care I will do my best to keep you out of pain and as healthy as possible.

I would like to share a little about myself and my background. That's me in the picture with my wife Jennifer and sons Kyler, Andrew, and Gus. I was born and raised in Clallam County west of Port Angeles and graduated from Crescent High School in 1994 as valedictorian of my class. I attended the University of Puget Sound in Tacoma, graduating with a Bachelor of Science Degree in Exercise Science in 1998.
I was planning on becoming a physical therapist until suffering a severe back injury while working out for the basketball team during my senior year. I was helped tremendously by my chiropractor and decided to become one so that I could help others as much as he had helped me. I attended Palmer College of Chiropractic West in San Jose, CA, graduating in 2002. I have been practicing in Port Angeles since 2003.

Providing quality care to all my patients is my number one priority. Continuing my education helps me to provide that quality care. I have been certified by the American Chiropractic Rehabilitation Board as a rehabilitation specialist, and I continue to take additional courses in order to provide the highest quality care for you. Providing quality care also means offering more services to our patients. We have a room dedicated to rehabilitation to help improve spinal stability and ensure that the adjustments you receive are able to last longer and hold better. Most insurances cover rehabilitation at little or no extra cost to you.
We also have onsite massage therapy. Please feel free to ask how massage therapy can help you. Our hours are M,W,Th,F 8:30-6:00 (closed for lunch from noon-1:30). We take same day appointments, and we accept most insurances, including Medicare and Labor and Industry.
Again, thank you for your interest in becoming my patient. I promise to give you my best and to work hard to keep you healthy. I do have one small favor to ask of you. Please tell other people about the quality care you receive here. The highest praise a chiropractor can get is for you to tell your friends and family how much better you feel and to recommend that they come in for a visit.
Thank you,
Dr. Jim Halberg, DC
Chiropractor Port Angeles, WA
Here at Halberg Chiropractic Clinic, we take a natural approach to health care. We want our patients to be healthy and we strive to eliminate the need for medications if possible. With musculoskeletal problems, we want to get to the root cause of the problems, and not just cover up the symptoms. We strive to get our patients feeling their best as quickly as possible; no long term commitments or pre-pays required.
Halberg Chiropractic Clinic
228 E. Lauridsen Blvd.
Port Angeles, WA 98362
Phone: 360) 457-7576
Fax: (360) 452-8079

Monday:
Tuesday:
Wednesday:
Thursday:
Friday:
08:30 AM - 06:00 PM
closed
08:30 AM - 06:00 PM
08:30 AM - 06:00 PM
08:30 AM - 06:00 PM
We know you have many choices when choosing a Chiropractor in Port Angeles, WA, so we have made requesting an appointment a simple process via our Web site. If, for any reason, you cannot keep a scheduled appointment or will be delayed, please call as soon as possible. Charges may be incurred for appointments cancelled less than 24 hours before scheduled appointment time.
Payment Policies
We accept checks, cash or credit cards. We also offer a flexible payment plan. Please see our Financial Coordinator for details.
Insurance and Billing
We accept most traditional insurance plans. Please contact our office to verify acceptance of your plan. Qualifications for insurance coverage may differ due to the uniqueness of each procedure.